ExxonMobil and B-Quik offer special promotion for B-Member members
Celebrating 20-year business partnership with a special promotion: "Mobil thanks customers, giving away prizes worth over a million baht"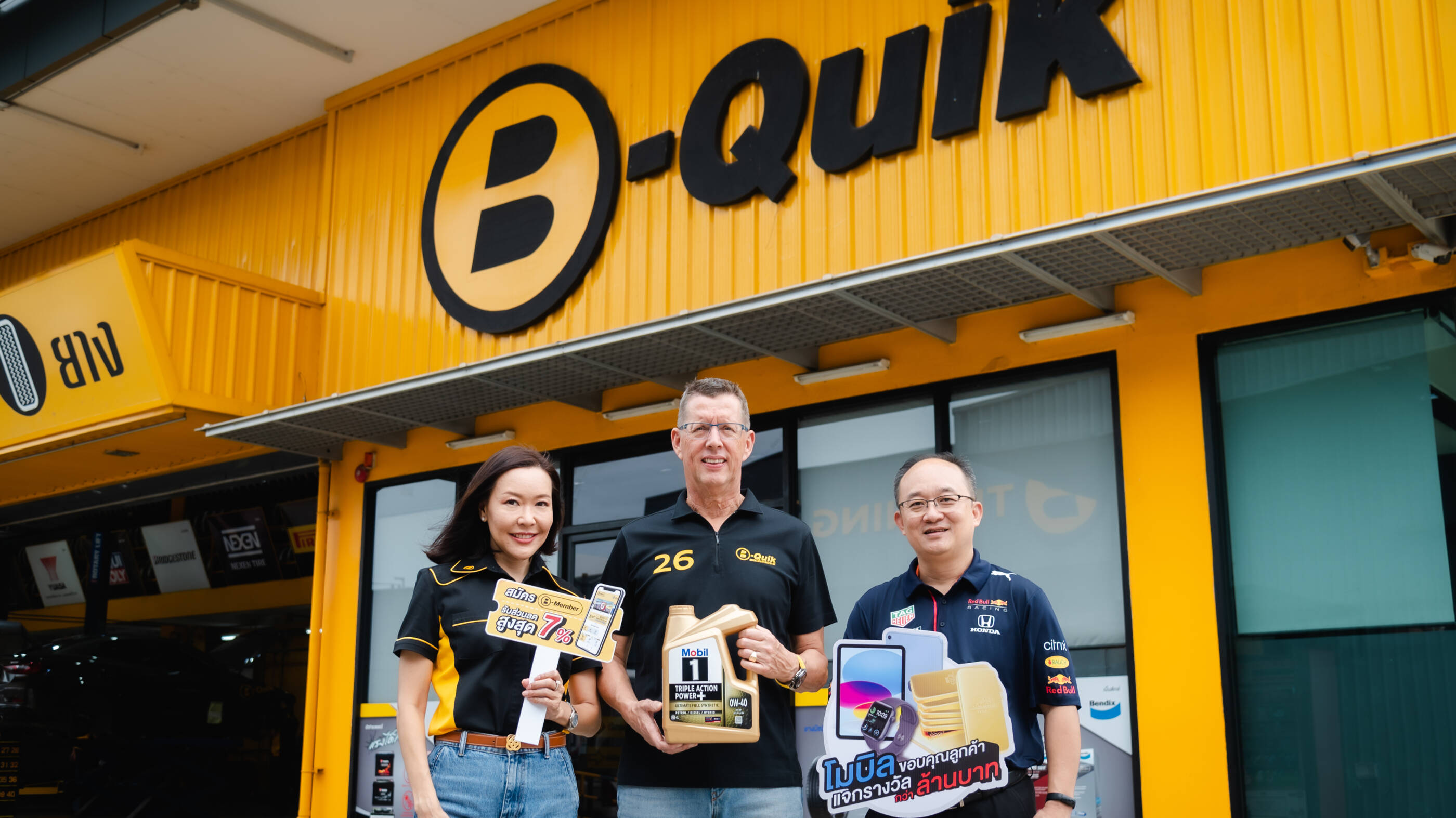 ExxonMobil Marketing (Thailand) Limited ("ExxonMobil") and B-Quik Co., Ltd. ("B-Quik") celebrated 20 years' business partnership with a special lucky draw promotion: "Mobil thanks customers, giving away prizes worth over a million baht" for B-Member customers who change the participating Mobil 1 and Mobil Super engine oil and filters from today till 30 November 2023 at all B-Quik service centers nationwide. Prizes include 20 15.16-gram gold bars (each valued at 32,300Bht*), 20 iPad 10th generation (each valued at 17,900Bht), 20 Apple Watch SE (each valued at 9,900Bht), and 200 BQ Racing x Mobil T-shirts (each valued at 699Bht), total 260 prizes with value more than 1MBht. Customers can view the terms and conditions of the prize draw and promotion details via Line Official Account: @B-Quik1153.
Manoch Munjitjuntra, lubricants sales manager, ExxonMobil said, "We are very pleased to have been partner with a complete automotive service center like B-Quik for 20 years. To celebrate this auspicious anniversary, ExxonMobil joins with B-Quik to organize a special lucky draw promotion to thank our customers for their long trust. ExxonMobil and B-Quik share the same vision and goal of delivering high quality engine maintenance to customers. We are confident that the two companies will maintain a good business partnership for the long term in the future."
B-Quik started serving Mobil branded lubricants to customers since 2003. ExxonMobil has supported B-Quik Racing with Mobil 1 products to prove the outstanding performance and reputation of high performance engine lubricants for over 10 years.
Henk Kiks, B-Quik chief executive officer said, "B-Quik is very pleased to be a business partner with ExxonMobil for 20 years. We are committed to making all our customers satisfied with quality products and services. At present, B-Quik has the largest network of complete car service centers in Thailand. We have more than 200 branches covering the entire country. We aim to leverage every marketing communication channel and cover all communication platform to reach our customers of every generation more conveniently and quickly. With the great support from customers, B-Quik would like to reward customers with a B-Member membership program that offers special discounts up to 7% to member customers. B-members can collect points from every 25 Baht spend at B-Quik which can be used for redeeming for discounts or special privileges from B-Quik and many of our business partners."
For more information, please contact Public and Government Affairs
Email: thailand-public-affairs@exxonmobil.com
ExxonMobil Marketing (Thailand) Limited
3195/26, 22nd Floor, Rama IV Road, Klong Ton
Klong Toey District, Bangkok 10110
*Price as of 5 Sep 2023
**Participating products:
MOBIL 1 0W-40: size: 4 liters
MOBIL 1 5W-30: size: 4 liters
MOBIL 1 ESP 0W-30: size: 4 liters
MOBIL 1 TBD 5W-40: size: 6 liters
M SUPER AIO PROTECT 0W-20: size: 3.5 liters
M SUPER AIO PROTECT 5W-30: size: 4 liters
M SUPER AIO PROTECT TBS 5W-30: size: 6 liters
M SUPER FRICTION FIGHTER TBS 10W-30: size: 6 liters
M SUPER FRICTION F. 10W-40 size 4 liters